Thank You for Choosing North Coast Auto Mall of Bedford
If you're in the market for a used vehicle, you want to ensure you're working with a trustworthy dealership. Buying a used car is a big decision and it's important that you have the right partners alongside you throughout the decision-making steps. The right dealership will help you with the entire car buying process and sell you a great vehicle at a reasonable price. To get all this and more, consider visiting North Coast Auto Mall in Bedford, Ohio.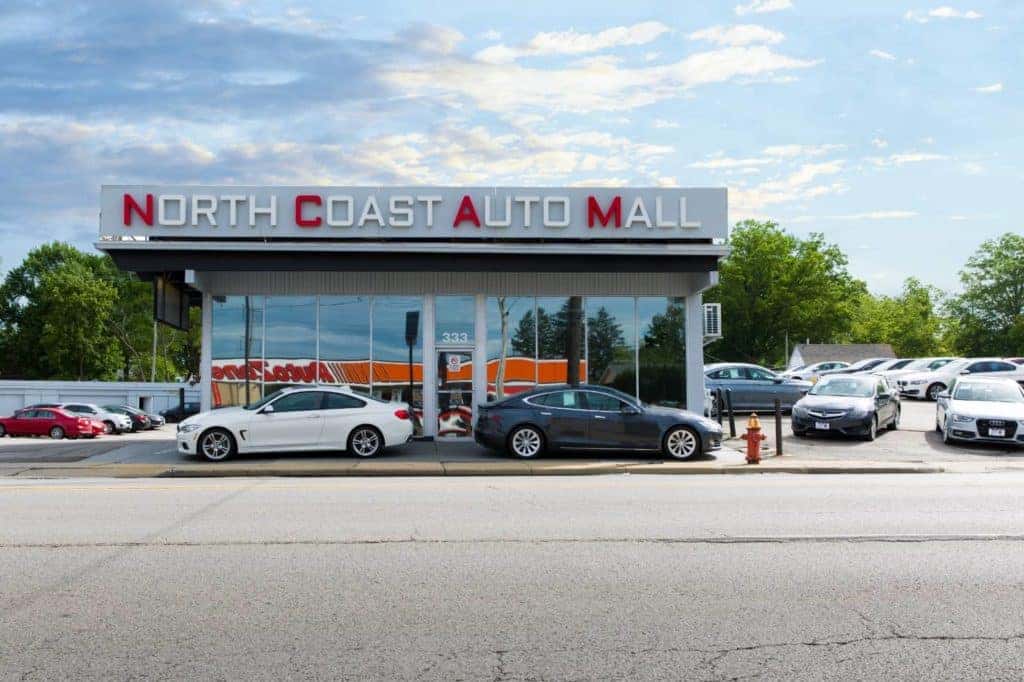 Who We Are
Originally established in 2002, North Coast Auto Mall was created with one business plan in mind: high volume, low prices, and great service. Since then, our used car dealer has become a trusted source in Bedford for used cars for sale, exceptional financing solutions, and more. We strive to be the best, most user-friendly dealer on the market and ensure you get the most out of your car-buying experience.
To do this, we've optimized the car buying experience. First, you can browse all our current inventory from the comfort of your own home. Then, once you're ready to come in, our sales staff aims to provide the best possible customer service experience. Here, you won't find pushy sales staff or uncomfortable waiting areas. We keep the customer in mind with everything that we do, from our low prices to our friendly staff.
How Our Dealership Operates
Here at North Coast Auto Mall, we are able to offer low prices on all our vehicles. This is largely due to how we acquire our vehicles. Our process consists of having buyers and employees all over the country, attending auctions for us and buying only the best vehicles. We attend about 40 auctions per week, giving us access to tens of thousands of vehicles to choose from. Our team carefully inspects each vehicle, and if it meets our standards, they purchase it for the dealership.
At many auction houses, they are willing to sell vehicles below wholesale. By being patient, North Coast Auto Mall is able to get great cars at a significant discount. We then bring those cars back here and pass those savings along to our customers. Essentially, we take all the work out of going to an auction house to buy a vehicle, inspecting and purchasing cars on behalf of our customers so that they can get the great low rates without spending a significant amount of their own time.
A Buy Here Pay Here Dealership
One of the biggest benefits that North Coast Auto Mall offers its customers is that we are a buy here pay here dealership. Here's how it works. Typically, when you go to a dealership to buy a car, you have to go through a lengthy process if you want to finance your vehicle. Rather than going through the hassle of applying for an auto loan through a bank, you can finance the vehicle through our dealership.
Financing your vehicle through our dealership provides several advantages. First, we don't consider your credit history when you apply for financing. Therefore, if you have a poor or limited credit history, financing through us makes it much easier to get the loan you need. In addition, by financing this purchase, you'll get the chance to build up your credit and improve your credit score. Finally, you won't have to deal with the typical waiting period associated with auto loan financing. With our help, you can get the car you need when you need it.
Providing Assistance to All Levels of Credit
No matter what sort of credit history you have, North Coast Auto Mall is here to help. We work with all levels of credit and can help you find a vehicle that you can afford. Just because you have a less-than-ideal credit score doesn't mean you have to forego driving around a car that you love. Our goal is to help everyone in the Cleveland area find their next vehicle, regardless of their credit history or credit score.
Professional Used Car Repair and Quality Auto Parts
After your buying process is complete, you may run into a situation where you need general automotive repair or need to order additional car parts or accessories for your vehicle. No need to worry! North Coast Auto Mall of Bedford offers professional used car repair at our service center. You can also order quality auto parts through our parts department. No matter what situation you may find yourself in, our car experts will make sure you have the best driving experience possible.
Get Started With Our Dealership
It's easy to get started with purchasing your next vehicle through North Coast Auto Mall. On our website, you'll find a current inventory of all the vehicles we have in stock. We do our absolute best to maintain this inventory list so that it's not only up to date but that each vehicle on there is exactly as it's described. If you find a vehicle that you like, set up a time with our dealership to come in for a visit. We can take you out for a test drive and really give you a feel for the vehicle.
From there, provided you like the vehicle, our staff helps walk you through the rest of the process. We'll talk to you about your payment options and help you create a payment plan that works for your budget. If you feel that the vehicle wasn't right for you, we can show you plenty of other options that you might like. Our goal is to help you find a car that you love, at a price you can afford, in as short of time as possible.
Experience the Difference at North Coast Auto Mall of Bedford
Regardless of your needs, you can trust the North Coast Auto Mall team to help. We have over 500 vehicles in stock, along with foreign and domestic makes in various models to fit your unique taste. Our experienced staff also takes all the work out of purchasing a vehicle, so you can relax and enjoy your car-buying experience.
In addition to our exceptionally priced vehicles, our Bedford used car dealer is dedicated to providing plenty of financing options for all types of buyers. No matter if you're looking for third-party, bank financing, or in-house financing, we have you covered.
Whether you're after a dependable ride or flexible financing options, we offer superior service in all departments. We invite you to explore our online inventory, visit us in Bedford for a test drive, or contact us with any questions you may have!