5 Reasons to Purchase an SUV As Your Next Vehicle
There are multiple options to choose from when browsing a dealership for the make and model of your next mode of transportation. If you're looking to transition from a car or truck, then one selection that stands out from all the rest is a sports utility vehicle (SUV). Its internal components breed power and efficiency. You can also count on its large, sturdy exterior and comfortable interior to keep you and your companions safe no matter what obstacles the road brings. Check out five reasons to take a closer look at an SUV.
Cargo Space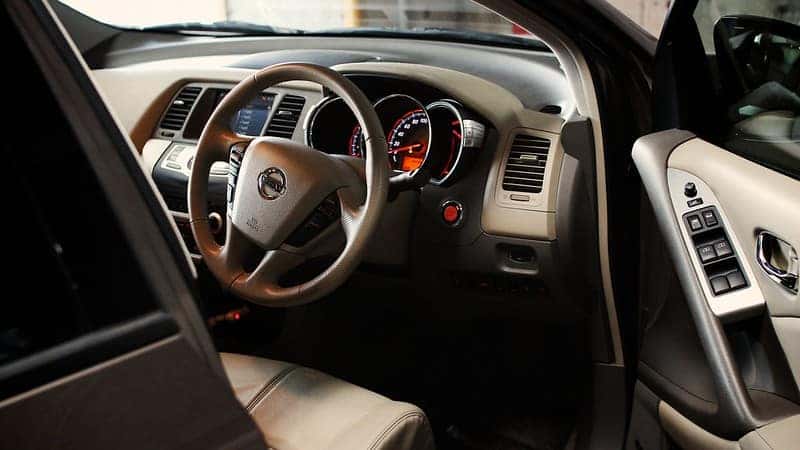 "Nissan Murano" licensed under "CC By 2.0" by "Miki Yoshihito"
One advantage of an SUV is the spaciousness of its interior. It provides enough room to store and transport large belongings, such as suitcases for every member of your family or equipment for a camping trip. You can also fit several smaller items in the rear of the vehicle, which can be useful if you're picking up groceries for an upcoming dinner party, for example, or bringing clothes and shoes to a local thrift store for donation.
Some models of SUVs provide flexibility with cargo space. You can fold the back seats down, providing extra room for your belongings, or remove the cargo floor to place items safely inside. If you're a driver who often travels with a lot of stuff, then an SUV may be worth the investment. Certain versions may enable you to split the back row, meaning you can keep one side upright to seat a passenger and the other side folded to place a long item on top of it. An SUV's cargo space offers the opportunity to get creative.
Seating Capacity
Depending on the model, the interior of an SUV has the capacity to seat up to nine passengers. Some versions have two rows of seats, while others have three rows. The vehicle is ideal for traveling with a group, offering enough leg and shoulder room for passengers of all ages to sit comfortably during a lengthy drive. You can take over carpooling services with ease or invite multiple friends on a road trip. 
The vehicle can also be beneficial if you often travel with a large family. If some of your passengers are young children who require car seats, you can attach the seats securely on the back row while still having enough space for older companions. Models also contain adjustable rear seats, allowing passengers to change the position of head restraints and shift to lounging positions. Regardless of your destination, the SUV contains room for you and your entourage.
Towing Capacity
Aside from the cargo room on the inside, an SUV has a towing capacity that empowers it to haul machines on the highway. For example, you can attach a canoe to the tail of a vehicle and wheel it with you on your journey to the river. If you plan to explore a mud-filled area or accelerate full-speed down the road, then you can tow your motorcycle or dirt bike to and from your destination. Full-size SUVs often have the highest towing capacity, and their powerful engines and sturdy exteriors keep the vehicles balanced when you're steering with extra weight.
An alternative to towing is taking advantage of the roof rails on an SUV. You can heave heavy items at the top of the vehicle and secure them, making it easier to transport them without obstructing your view of the road. Whether you're hauling a tractor or bringing a holiday tree home with you, SUVs are meant for the transport of not only you and your passengers but your machines.
Off-Road Performance
A standout feature on an SUV is its off-road capability. It's equipped to withstand rough terrain, from the bumpy roads of a forest to the deep sand on a desert. It has a ground clearance that creates distance between the bottom of the vehicle and the pavement, which helps you see obstacles in front of you when you veer away from the highway. It also prevents rocks and debris from damaging its underside.
Its maneuverability enables you to control the vehicle as you navigate sharp corners and travel down unpredictable roads. You can feel more confident gaining traction on an incline as you steer uphill or trudge through areas with shallow water. Paired with all-terrain or all-season tires and four-wheel drive, an SUV can be your transportation of choice for an outdoor excursion.
Safety
All parts of an SUV can protect you and your passengers as you travel to your destination. The sturdy exterior makes the vehicle more capable of withstanding a collision than its smaller counterparts, such as a sedan. Certain versions of the SUV also include steel on the outside, which can help minimize physical damage. On the inside of the vehicle, there's an air bag system that deploys when an emergency occurs, representing another safety mechanism to benefit the people occupying the vehicle. It includes headlamps and taillamps to increase your visibility when driving at night or during thunderstorms.
Another common feature in modern versions of the SUV is advanced technology that can boost your confidence when you're behind the wheel. For example, you can activate a blind spot monitoring feature that chimes when a vehicle is in an area you can't see otherwise from the rearview mirror, and it informs you when it's safe to merge into another lane on the interstate. The large size of an SUV can make it challenging to park, but models are often equipped with rear-facing cameras that show you your surroundings and guide you as you steer backward into a parking space.
Is Buying an SUV the Right Decision for You?
The next time you visit a dealership or browse inventory online, examine the specifications and appealing features of an SUV. Climb inside to test drive one and experience the power for yourself, along with the roominess and towing capabilities that can make your heavy transports less of a hassle. At North Coast Auto Mall in Bedford, we've given you five reasons to have an SUV in your garage or driveway. Did we capture everything there is love about the vehicle? Contact us to let us know.
Similarly, if you want to discuss financing options for your SUV purchase, then we are here to help. Our team will guide you throughout the financing process and make sure your experience with our Bedford dealership is a positive one.