The Best Pizza Spots in Bedford
Due to the wide variety of toppings that you can put on a pizza, some people believe you could eat pizza every day and never get bored. While that statement seems exaggerative, there are indeed many tasty pizza options out there to support the premise. "I can never lose pizza appetite" goes from outrageous to just about right when you're in a location filled with quality pizzerias.
On that note, here are some of Bedford's best pizza places and a few of their top menu items to help you decide where to go for a slice of heaven.
Farinacci Pizza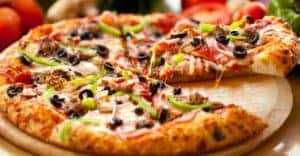 Image licensed by onmanorama.com
Just a short trip down the road in Northfield, you'll find some of the best pizza in the area at Farinacci Pizza. They keep their menu simple so they can focus on creating a top-notch pizza every time. Here, you can get a small, large, or family-size pizza. Topping choices include sausage, pepperoni, ham, green peppers, tomato, anchovies, and onions. Plus, you can add as many of those items as you want. Farinacci's also offers several salads to add to your pizza dinner, including a tossed salad, double salad, and Farinacci's Famous Fiesta Salad.
Check out their sausage sandwich, Italian sub, or garlic bread with cheese if you're not in the mood for pizza. Wash it all down with a soft drink, wine, beer, or other available beverage. Farinacci's is open Tuesday through Thursday and Sundays from 4 p.m. to 9:30 p.m., and Fridays and Saturdays until 11 p.m. They have three locations in northeast Ohio, with the Northfield location at 9385 Olde 8 Road.
Rascal House Pizza
Rascal House Pizza is located at 5220 Northfield Road in Maple Heights and offers pizza, wings, burgers, and more. Start your meal with chicken tenders, garlic sesame breadsticks, garlic toast (with or without cheese), or wings. They also offer pizza by the slice and waffle fries. Try their chicken bacon ranch pizza, made with char-grilled chicken breast, smoked bacon, provolone, and cheddar cheese on top or a cool creamy ranch sauce. Or check out the Texan Bar-B-Q Pizza with a unique spicy barbecue sauce and char-grilled breast of chicken strips, and topped with provolone and sharp cheddar.
Rascal House Pizza is ready to serve great pizza to you and your crew Monday through Wednesday from 9 a.m. to 12:30 a.m. and Thursday through Saturday until 1:30 a.m. This outfit is perfect for satisfying those late-night pizza cravings.
Spennatos
For fine Italian food, especially pizza, stop by Spennatos at 10446 Northfield Road in Northfield. Before diving into a New York- or Sicilian-style pizza, you can begin with some fried green beans, mussels, or mozzarella sticks. They also offer a stuffed pizza, calzones, and pepperoni rolls. Topping options are too numerous to list but include broccoli, fresh mozzarella, and jalapenos.
Stuffed pizza options are a Philly cheesesteak, chicken Philly, or pepperoni and sausage. Top it all off with a cannoli or tiramisu to wrap up your dining experience. Spennatos is open Sunday through Thursday from 11 a.m. to 8 p.m. and until 9 p.m. on Friday and Saturday.
Zeppe's
Another option for pizza, calzones, pasta, and more is Zeppe's at 320 Broadway Ave, #A in Bedford. Start with some Zepperoni Rolls to get your taste buds ready for one of Bedford's best pizzas. Try Joey's Original Clevelander, with Aglio E. Olio white sauce, capicola, ham, Genoa salami, banana peppers, onions, tomatoes, mozzarella, and mozzarella cheeses, and drizzled with Italian dressing. Zeppes also has fabulous Margherita and Hawaiian options.
Build your calzone with provolone, mozzarella, ricotta cheese, and any pizza toppings. Pasta options at Zeppes include chicken parmigiana and four-cheese ravioli, served with garlic twists. Dessert options include apple turnover, chocolate chip cookie, or cinnamon twists, complete with icing. They're open Monday through Thursday from 11 a.m. to 10 p.m., Friday and Saturday until 11 p.m., and Sunday from 12 p.m. to 10 p.m.
Reddi's Pizza
Down the road in Twinsburg, you'll enjoy Reddi's Pizza at 11660-D Ravenna Road. They offer boneless and traditional wings, salads, sandwiches, pasta, and pizza. Check out the chicken club, topped with bacon, chicken, onions, and tomato. Maybe a gyro pizza is more your style, with gyro meat, buttermilk ranch dressing, diced tomatoes, lettuce, and cheese as ingredients. Other menu options you need to try include the Reddi's sausage burger with a grilled sausage patty, homemade sauce, roasted peppers, and melted cheese, and the calzones or garlic twists.
Reddi's offers a fish fry, shrimp dinner, and meaty St. Louis ribs for those with a larger appetite. Whatever you decide, the restaurant is open for you on Monday from 3 p.m. to 8 p.m., Tuesday through Thursday from 11 a.m. to 9 p.m., and Saturdays from 12 p.m. to 9 p.m.
Marco's Pizza
Marco's Pizza is at 24 Center Road in Bedford and ready to build your pizza to order on Monday through Thursday from 11 a.m. to 11:30 p.m., Friday and Saturday until 12:30 a.m., and Sunday until 11 p.m. A local favorite is the Pepperoni Magnifico, made with Marcos' signature Old World Pepperoni, pepperoni, romesan seasoning, original sauce, and signature three kinds of cheese. Check out their pizza bowls with all the goodness of the toppings without a crust. Marcos also offers a steak and cheese sub complete with mushrooms and mayo.
If you're in the mood for a salad, the North Coast Auto Mall staff recommends the Greek salad with fresh-cut lettuce blend, sliced tomatoes, black olives, onions, banana peppers, and feta cheese crumbles. And when pizza just isn't enough to feed your bunch, check out the Cheezybread, chicken wings, or chicken dippers. End your meal with cinnasquares, a fresh-baked, buttery pastry topped with sugar and cinnamon and served with vanilla icing.
The team at North Coast Auto Mall hopes you get a chance to visit one or more of Bedford's best pizza places. Grab your loved ones for a night out at any of these spots. If you'd like to check out more of our favorite spots around Bedford, take a look at our blog, where we work hard to provide you with the best of the best in the area.