Best Bed and Breakfast's in Bedford, OH
These peaceful bed-and-breakfast locations around Bedford offer the perfect opportunity to escape when you need to get away for a few days and slip back into a slower pace of life. These destinations are just a short drive from Bedford, making them an ideal choice if you've just purchased a new car and want to break it in with a weekend escape. Consider these destinations in and around Northeast Ohio. These recommendations are compiled from our local staff working in the historic Bedford Auto Mile district. To add your favorites to our list, contact our team and let us know your favorite bed & breakfast in Bedford.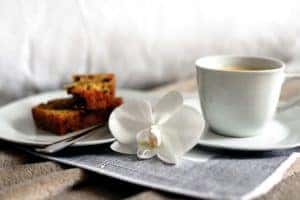 "Coffee Breakfast Bed" licensed under Pixabay by congerdesign
WATER'S EDGE RETREAT
Situated on Kelly Island's south shore, Water's Edge Retreat has seven thoughtfully appointed rooms for you to choose from. The Charles Lawrence is the most elegant, equipped with a gas fireplace, sitting area, private sun porch, and a whirlpool tub in the private bath. Each guest room features its own private bathroom, antique furnishings, and quaint decor.
Guests can enjoy a gourmet breakfast daily as well as house-made sangria and a cheese board in the evening. The hosts even provide a sweet treat at bedtime. The bed-and-breakfast maintains a library of books, movies, and games. You can also enjoy the lakefront fire pit, complimentary bicycles, and kayak rentals.
1873 VICTORIAN ROSE
The 1873 Victorian Rose bed-and-breakfast in Newcomerstown, Ohio, offers a charming escape for a small number of guests. The home has two guest rooms, both of which are equipped with a queen-size bed, working fireplace, and private bath. The innkeepers Cork and Sandy Mann provide exceptionally attentive service to guests. In the home's common areas, you'll have access to card and board games, a library, a DVD collection, a screened back porch, and even a piano.
Breakfast is served at 8 a.m. daily in the grand dining room. The Victorian Rose offers special packages as well that include additional amenities, such as a bouquet of roses and chocolate-dipped strawberries for a romantic escape.
GARDEN GATE GET-A-WAY BED AND BREAKFAST
Nestled in the largest Amish community in the world, the Garden Gate Get-A-Way Bed and Breakfast in Millersburg, Ohio, offers a peaceful escape that feels a world away. You can stroll the surrounding gardens by day and cozy up to a campfire in the evening. The bed-and-breakfast features three standard guest rooms and two suites. Each room has distinctive decor and elegant accents. You can find hardwood floors, Amish-made high-backed headboards, glider rockers, and other delightful features.
This destination typically serves a three-course breakfast, but this may be temporarily suspended depending on the timing of your stay. Check with the hosts when making your reservations to confirm the available dining options.
FITZGERALD'S IRISH BED & BREAKFAST
Enjoy the hospitality of Ireland in picturesque Painesville at Fitzgerald's Irish Bed & Breakfast. This bed-and-breakfast has four rooms to choose from, all with private bathrooms. The two premium rooms also feature Jacuzzi tubs for added luxury. High-speed Wi-Fi and cable TV are available throughout the bed-and-breakfast. This destination typically serves a continental breakfast on weekdays and a full breakfast on Saturdays and Sundays. Meals may be temporarily suspended during your stay due to COVID-19. Contact Fitzgerald's before booking your visit for more details.
1830 HALLAUER HOUSE BED & BREAKFAST
Located in Oberlin, Ohio, the 1830 Hallauer House Bed & Breakfast provides three distinctive rooms to cater to your comfort. All rooms feature private baths, electric fireplaces, bathrobes, free Wi-Fi access, and mini-refrigerators with complimentary snacks and beverages.
The extensive common areas here include a fitness center, Asian spa, music room with a baby grand piano, in-ground heated swimming pool, six-person hot tub, and expansive garden. Breakfast is a generous four-course affair that will help you fuel up to tackle any sort of day, whether you're relaxing on-site or exploring nearby highlights.
HILLSIDE INN
The Hillside Inn has seven beautiful bedrooms to choose from. You can opt for a king- or queen-size bed. Select rooms also feature Jacuzzi tubs and fireplaces. All rooms include a mini-fridge, with the exception of the Hillside Suite which has a fully equipped kitchen. A light complimentary breakfast is included each morning. Located in Millersburg, Ohio, in the heart of Amish country, this bed-and-breakfast offers a peaceful retreat from the bustle of everyday life.
GARVER HOUSE BED AND BREAKFAST
Situated in the village of Strasburg in Ohio, the Garver House Bed and Breakfast is housed in a charming 1902 colonial. The home still features its original hardwood floors, five stained-glass windows, four fireplaces, and a stunning grand staircase. This destination offers four guest rooms, three of which have private baths. The Warther Room does not have its own bath and must be booked with another room, making it an ideal choice for families who want to spread out across two rooms and don't mind sharing the bathroom.
Each morning, you'll find the coffee, tea, and hot chocolate bar prepared at 8 a.m. Breakfast is served at 9 a.m. in the dining room and typically includes a selection of fruit, breakfast meat, baked goods, and an entree like pancakes or a breakfast strata. Outside the bed-and-breakfast, you'll find a quaint goldfish pond and fountain with an adjacent patio for relaxing on pleasant days. Mrs. Gigglebelly's Tea Parlour is located on-site as well, offering a delightful afternoon tea.
BEAR CREEK FARM BED AND BREAKFAST
The Bear Creek Farm Bed and Breakfast is situated on 100 acres of picturesque landscape in Kingsville, Ohio. The house features four bedrooms with private bathrooms, complimentary Wi-Fi, luxurious linens, and DVD players. Select rooms have fireplaces as well. You can also stay in the private guest cottage, which has its own fully equipped kitchen.
Rooms in the house come with a complimentary breakfast. The property includes additional amenities such as a nine-hole disc golf course, 3 miles of hiking trails, a fire pit, swings, and a 3/4-acre pond with paddle boats.
STAY IN TOUCH WITH THE BEST BEDFORD HAS TO OFFER
Do you know of another great bed-and-breakfast in the area that didn't make it on our list? Contact our team at North Coast Auto Mall of Bedford so we can make sure we're always providing the best recommendations for nearby retreats to our customers.