Best Breakfast Spots in Bedford, OH
Bedford is an old town and its Historic Downtown District is listed on the National Register of Historic Places. This area includes the Bedford Public Square, multiple historic houses, and commercial buildings from the late 19th and early 20th centuries. Today Bedford features a bustling downtown with lots of great restaurants, diners, and cafes to enjoy a family breakfast or a brunch with friends. We asked our local staff and their families for their recommendations on the Best in Bedford when it comes to breakfast spots and made this list from their recommendations. Read on to explore our staff's favorite spots for breakfast in Bedford and contact us to let us know about your favorite and we'll add it to our list.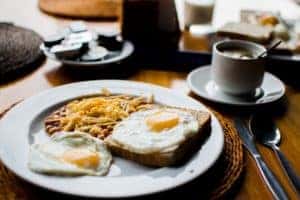 "Beans Breakfast Fried Eggs" licensed under Pixabay by Pexels
SCRATCH RESTAURANT
Scratch Restaurant is known for its unique creations as it strives to bring you new culinary delights and reworked favorites in ways you have never tried before. Scratch Restaurant is committed to giving back to the community and donates a portion of the price of certain menu items to help those in need. You'll find Scratch at 6595 Brecksville Road in Independence, Ohio, just 15 minutes from Bedford. They are closed on Sunday and Monday and open from 8 a.m. to 1:30 p.m. the rest of the week, so stop on by one morning to try something new.
Their All Day Breakfast menu has savory and sweet sections. For a savory choice, try the blackened salmon on a toasted English muffin with eggs and hollandaise sauce. From the sweet menu, you could do worse than the Banana & Bourbon Caramel Pudding French Toast, which is French toast made from a bread pudding and topped with a bourbon caramel sauce over bananas and finished off with maple syrup-infused whipped cream and a side of sausage or pork belly. And the best part about this French toast is that for every order they sell, Scratch donates a dollar to Cleveland's homeless.
CAFE AVALAUN
Cafe Avalaun specializes in serving up gluten-free food with organic, local ingredients that are as delicious as they are good for you. You'll find them at 4640 Richmond Road, Unit 200 in Warrensville Heights, 12 minutes from downtown Bedford. They are open Wednesday to Saturday, from 9 a.m. until 6 p.m. Here, you'll find locally roasted coffee by Crooked River Coffee company, organic teas from the locally owned Storehouse Teas, and Cafe Avalaun's signature gluten-free buckwheat crepes along with a selection of pastries and breakfast items. They currently suggest you order ahead for pickup until things are fully open.
For a tasty breakfast sandwich try the Fast Sammy with one slice of thick-cut uncured bacon, one-and-a-half eggs, and cheddar cheese on a buttermilk biscuit made with rice flour. The 3 Egg Omelet is made from fresh, local, free-range eggs and is made to order with your choice of three ingredients from their list that includes mushrooms, onions, ham, grilled chicken, cheddar, gruyere/brie sauce, and more. Their crepe options include the Oh Canada crepe with eggs, fried potatoes, cheese curds, sausage, and maple syrup, and the Croque Madame Crepe with scrambled eggs, ham, and gruyere fondue.
BEDFORD FALLS CAFE
Located in the heart of downtown Bedford at 720 Broadway Ave., Bedford Falls Cafe is one spot you won't want to miss. They are open from 7 a.m. to 3 p.m. on Monday, 7 a.m. to 4 p.m. Tuesday through Friday, 8 a.m. to 4 p.m. on Saturday, and are closed on Sunday. You'll find a fine selection of delicious coffees, mochas, other espresso drinks, and hot and cold teas, along with breakfast foods, lunches, and pastries. Their selection of bagels ranges from Everything to an Asiago cheese bagel, and the option of cream cheese or peanut butter schmear.
From their All Day Breakfast Wraps list, try the Good 2 Go breakfast wrap with two eggs, mushrooms, bell pepper, red onion, parmesan cheese, and your choice of meat. Their list of breakfast sandwiches includes Two Eggs Ham and Cheese with your choice of bread such as English muffin, bagel, or ciabatta, and choice of cheese including cheddar, pepper jack, Swiss, and smoked gouda. The Breakfast Platter gets you two scrambled eggs, two sausage patties, and your choice of toast. They also have appetizers, soups, salads, and regular wraps and sandwiches, and sides such as plain fries or applesauce.
HOT GRILLZ
Address: 7188 Northfield Rd, Walton Hills
When you want a hearty breakfast packed with flavor, head to Hot Grillz for your morning fix. The restaurant opens at 7 a.m. on weekdays and 8 a.m. on weekends. The menu features filling favorites like steak and eggs with potatoes and toast, the country fried steak breakfast, a massive three-egg omelet with your choice of add-ins, or biscuits and gravy with your choice of creamy sausage gravy or savory chorizo gravy.
If you like a spicy dish, try the huevos de muerte, topped with homemade chili and queso sauce. When you're craving something sweet, the Belgian hot wheels waffle, fluffy buttermilk pancakes, or French toast topped with strawberries and bananas will surely hit the spot.
For something smaller, you can always opt for The Starter, which features two eggs and your choice of toast and potatoes. The Shifter is a simple pick as well, featuring sausage, egg, and cheese on a bagel. The comfort fusion style at Hot Grillz delivers an extensive selection of satisfying options for nearly any type of craving.
GYRO GEORGE
Address: 5170 Northfield Road, Maple Heights
You may not think of breakfast when you think of this spot, but Gyro George serves a full menu of morning classics to help you start the day right. The restaurant is open 24 hours, so you can always grab a bite. When you want a little of everything, the Big Azz is the perfect meal, delivering two large pancakes, two sausage links, two pieces of bacon, three eggs, home fries, and Texas toast. The menu also includes breakfast sandwiches, pancakes, French toast, omelets, and home fries (also available smothered in cheese and grilled onions).
If you're looking for some of that Greek flavor, you'll find gyro meat in the breakfast burrito as well as many of the omelets. You can even go all out with the Greek omelet that's filled with olives, tomatoes, onion, Feta cheese, and optional gyro meat. Complete your meal with coffee, fresh-squeezed orange juice, Nantucket bottled juice, or a fountain drink.
BARAONA'S BAKERY
Address: 15842 Libby Road, Maple Heights
Enjoy a quick and sweet morning treat with the fresh-baked delights from Baraona's Bakery. Each morning, an assortment of hot donuts hit the counter in a wide variety of flavors, including glazed, cake, jelly, custard, and more. The bakery makes danishes fresh daily as well, in cheese, apricot, apple, and cherry varieties.
The bakery opens at 7:45 on Sunday and Monday and at 7:30 Tuesday through Saturday, so you can get your sugarfix early. If you have a special occasion coming up or simply want to make an ordinary day extra special, consider picking up one of the bakery's heavenly cakes, cannolis, or cookies while you're in.
LUNA BAKERY CAFE
Address: 34105 Chagrin Blvd, Moreland Hills
The Luna Bakery Cafe in Moreland Hills serves breakfast from 7 a.m. to noon Tuesday through Friday and from 8 a.m. to 1 p.m. on Saturday and Sunday. The breakfast options are easily customizable. Enjoy herb scrambled eggs with optional add-ins like cheeses, onions, sauteed mushrooms, spinach, tomato, ham, bacon, or sausage. The herb scrambled egg panini comes with eggs, Swiss cheese, and a side of pico de gallo, though you can also add ham, bacon, or avocado.
The Nest Egg is a charming way to start the day, with a sunny egg nestled in a piece of toast. If you're in the mood for classic comfort, order the steel-cut oatmeal, available plain or with add-ins like honey, dried fruit, fresh berries, or granola. You can order the avocado toast, smoked salmon toast, and stone oven toast all day with an assortment of custom toppings to perfectly suit your tastes.
If you're in the mood for something heartier, you can also order the breakfast burrito any time of the day. Filled with eggs, cheese, black beans, avocado cream, and optional sausage, this is sure to help you power through the day.
EXPERIENCE THE BEST IN BEDFORD WITH NORTH COAST AUTO MALL
Going out for breakfast is a fun and filling way to start the day on the weekend or any morning you have off. Whether you want something classic like pancakes, want to try something new, or just want to grab a quick bagel and a nice cup of coffee, Bedford has some great options you can choose from. Have you tried any of the breakfast places in Bedford we mentioned? Do you agree with the ones on this list? Drop us a line at North Coast Auto Mall and let us know what you think is the best spot to get breakfast in Bedford and we'll be happy to update our list.