Best Breweries Near Bedford, OH
Craft breweries produce beers that are far more complex and enjoyable than your standard six-pack. The Bedford area is home to many small breweries that consistently produce delicious and unique beers. We asked our local staff and their families to give their recommendations on the best breweries and craft beers in Bedford. In this list, we share our top picks for must-visit breweries in and around Bedford. If you know of a great new brewery in Bedford or in the larger Cleveland metro area, please let us know! We're happy to update our list and connect our customers and readers with the "Best of Bedford" when it comes to breweries and beer.
BOSS DOG BREWING COMPANY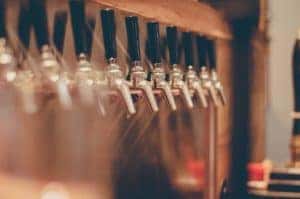 "Beer Tap" licensed under Pixabay by Veex
Boss Dog Brewing Company is owned and operated by the Sweet brothers. Boss Dog Brewing produces some truly unique beers, such as the Must Be Love, a chocolate porter brewed with Cabernet Franc and cherries. Perennial favorites include the chocolate-flavored Dog Pound brown ale and the citrus and Mastiff Mango summer IPA. Other beers include Russian imperial stouts, fruit beers, and German pilsener. Enjoy your Boss Dog beers in flights of four or eight. You can also fill your crowler or growler with any Boss Dog brew.
The Boss Dog Brewing food menu includes pizzas, salads, sandwiches, and assorted appetizers. Dinner entrees include pork schnitzel, baby back ribs, and old-fashioned chicken and waffles. The menu includes lots of gluten-free, vegetarian, and vegan options.
You can visit Boss Dog Brewing Company on Lee Road in Cleveland Heights. Hours are Monday through Thursday from 4 p.m. to 12 p.m., Friday from 4 p.m. to 2 a.m., Saturday from 11 a.m. to 2 a.m., and Sunday from 11 a.m. to 10 p.m. Reservations are encouraged.
PLATFORM BEER COMPANY
Platform Beer Company began in 2014 as a Cleveland brewhouse and has since expanded to include a Cleveland production facility, two additional taprooms, and the Phunkenship, a Cleveland sour beer facility. Beer options rotate weekly, but there are always at least 20 beers available at any time. Platform Beer Company produces sour, light, fruity, dark, IPA, and apple ales. Check out the Pumpkin Spice American pale ale, the Strawberry Mylk fruit beer, or the popular Elegant Stranger Czech pilsner. Platform also produces hard seltzers in flavors like strawberry basil and margarita.
Beers are available by the glass, crowler, or growler. Platform offers a small bites menu that includes hot pretzels, fried potatoes, and seven flavors of chicken wings. Wine, cocktails, and non-alcoholic drinks are also available.
The original taproom on Loraine Avenue has indoor as well as patio seating. The patio area is pet-friendly. Hours are Monday through Thursday from 3 p.m. to 12 a.m., Friday from 3 p.m. to 2 a.m., Saturday from 11 a.m. to 2 a.m., and Sunday from 11 a.m. to 10 p.m.
MARKET GARDEN BREWERY
The Market Garden Brewery has been making award-winning beer since 2011. Their expansive draft list changes weekly and includes pilsners, seasonal ales, stouts, IPAs, and Scotch ales. Market Garden's Prosperity Wheat Bavarian-style Hefeweizen beer has won multiple awards. Other popular beers include the Progress Pilsner, a crisp German beer perfect for the warm summer months, and the Frosty Lime Wit, a Belgian beer with the flavor of tart lime. Beer is available by the glass or growler. Hard cider, cocktails, and wine are also available.
Market Garden Brewery's food menu includes pretzels, wings, and Scotch eggs. Main dishes include sandwiches, pizzas, and salads. The weekend brunch menu includes brioche cinnamon rolls, quiche, and French toast. Market Garden Brewery uses organic and locally sourced ingredients whenever possible.
The Market Garden Brewery is on West 25th Street. The brewpub has three bar areas and lots of outdoor seating. Hours are Wednesday and Thursday from 3 p.m. to 10 p.m., Friday from 2 p.m. to 12 a.m., Saturday from 11 a.m. to 12 a.m., and Sunday from 11 a.m. to 10 p.m. Weekend brunch is available Saturday and Sunday from 11 a.m. to 3 p.m. Reservations are required.
THE CLEVELAND BREWERY
A fateful trip through Germany led to the creation of the Cleveland Brewery tasting room in 2015. Over the years, the Cleveland Brewery has produced over 50 unique beers. The Brewery tasting menu changes weekly. Some of the most popular beers include Browns Town, a brown ale with flavors of coffee and chocolate, and Celtic Warrior, a hoppy red IPA. For an extra-special treat, try the barrel-aged Cleveland Street Christmas ale, brewed with cinnamon, honey, and ginger; aged in a Cleveland whiskey barrel.
Depending on the size of the glass, a beer at the Cleveland Brewery costs between two and eight dollars. The Cleveland Brewery is on East 185th Street. Hours are Thursday through Saturday from 4 p.m. to 10 p.m. Hours may change depending on beer availability, so check their website for updated hours. If you can't get into The Cleveland Brewery, look for their beer at local restaurants and bars.
BOOKHOUSE BREWING
Brewer Vaughn Stewart creates a wide variety of beers at Bookhouse Brewing. With 16 beers on tap at any one time, there is sure to be something for everyone to enjoy. Bookstore Brewing produces interesting brews, including the Puff Puff Rauchweisen, an uncommon smoked beer, and the Reasons To Be Cheerful Quad, a Belgian-style Christmas ale aged in bourbon barrels. Stouts, pale ales, lagers, IPAs, and gose beers are also on the tasting menu. Bookhouse Brewing also makes several hard ciders, including Draw Us Lines, with a haunting floral aroma and the flavor of syrup-soaked lemons.
Beer and hard cider are available by the glass or crowler. The taproom also offers a variety of spirits, wine, and non-alcoholic drinks. Bookhouse Brewing's food menu includes hot pretzels, chicken wings, and bar snacks to enjoy with your beer.
Bookhouse Brewing got its name from the several hundred books housed throughout the brewery, including the taproom tables. Feel free to take a book that interests you or leave a book for others to enjoy. Bookhouse Brewery is in Cleveland's Ohio City neighborhood on West 25th Street. Free parking is available. Hours are Tuesday through Thursday from 4 p.m. to 10 p.m., Friday from 3 p.m. to midnight, Saturday from noon to midnight, and Sunday from 1 p.m. to 6 p.m. Beer and cider can also be ordered online for curbside or in-store pickup.
CONNECT WITH THE BEST OF BEDFORD AND BEYOND WITH OUR STAFF
Visit any of these local breweries the next time you are craving a cold beer. Not only will you support a local business, but you will also enjoy a unique beer every time you visit. If you have a favorite brewery that we missed, contact us, and we will be sure to let our extended customer base and readership know by updating our list.