Best Burgers in Bedford
Burgers are an all-American food that can offer up a variety of tastes based on the toppings added. There's nothing like sinking your teeth into a mouth-watering, tasty burger in Bedford, Ohio. The team at North Coast Auto Mall spent some time researching the best burger joints in the area so that you'd know where to go when you're craving one. Here are a few of Bedford's best burgers.
Burger Fresh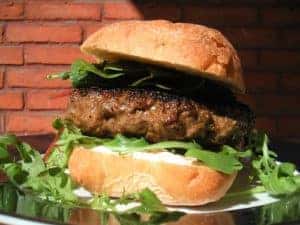 "Burger" licensed under CC BY-SA 2.0 via Flickr by cyclonebill
Not only can you get a delicious Angus beef burger at Burger Fresh, but they also offer a salmon burger, black bean burger, and famous Hebrew National all-beef hot dog. Burger Fresh is located in nearby Solon at 6134 Kruse Drive, serving Tuesday through Thursday from 11 a.m. to 9 p.m., Friday to 10 p.m., and Saturday from noon to 10 p.m. You'll find a simple build-your-own menu, starting with the bun and then adding cheese and toppings to the meat of your choice.
In addition to that, they also have several specialty burgers, such as the Napa Burger made with arugula, salsa, red onion, chipotle aioli, and homemade guacamole. There's also a 'Shroom Burger topped with grilled mushrooms, Swiss cheese, mayonnaise, pickle, ketchup, lettuce, and tomato. You can get any of their burgers as either a single or a double. Pick your side to make it a meal; choices include fresh-cut fries, cheddar fries, healthy fries, and a side salad. If you really want a special treat, add a shake or cup o' custard to your meal.
The Last Page Restaurant
Located at 100 Park Ave., Suite 128 in Cleveland, you'll find more great burger options at The Last Page Restaurant. They're open from 3 p.m. to close. Tuesday through Saturday and Sundays from 11 a.m. to close, serving brunch from 11 a.m. to 2:30 p.m. While they only offer two burger options, it's definitely worth a visit to try them. The RFGB is a double-smash patty burger topped with horseradish aioli, bacon jam, arugula, crispy onions, and cheddar cheese on a sesame seed bun.
The second burger option is a Brunch Burger, starting with a double smash patty and topped with a sunny-side-up egg, crispy bacon, cheddar cheese, and mayonnaise. Another menu item we highly recommend is the Last Chicken Sandwich, served with pickled banana peppers, iceberg lettuce, and yum yum sauce on a Hawaiian bun.
Winking Lizard Tavern
You'll find several Winking Lizard Taverns across Ohio, including the one located at 25200 Miles Road, Unit #1 in Bedford Heights. All of the burgers at the Winking Lizard are half-pound and charbroiled, then served on a brioche bun with steak fries. You can upgrade your fries to either onion rings or Pfred's Preferred fries for just a little more. Toppings, or what Winking Lizard calls spare parts, include American, Swiss, cheddar, and mozzarella cheeses, plus sauteed mushrooms, crumbled blue cheese, applewood bacon, and grilled onions. These toppings can be added to any of the burgers on their menu.
For a delicious basic burger, check out their bacon cheeseburger topped with applewood bacon and American cheese. Another option is the patty melt, made with grilled onions and American cheese on rye bread. Check out their mini burger basket with four sliders with American cheese served on rolls. The Bayou Burger is a crowd favorite, seasoned with Cajun spices and topped with mushrooms and mozzarella cheese.
If you're hungry, try the Big Ed Burger, two half-pound patties stacked with applewood bacon and American cheese. The Wild Western is basted in award-winning barbecue sauce then piled high with applewood bacon, American cheese, onion straws, lettuce, and tomato. You can eat at the Winking Lizard Tavern Monday through Thursday from 11 a.m. to 11 p.m., Friday until midnight, Saturday from 11:30 a.m. to midnight, and Sunday from 11:30 a.m. to 10 p.m.
Burgers 2 Beer
Burgers 2 Beer has three Ohio locations, with the one in Solon closest to Bedford. You'll find them at 33003 Aurora Road, serving from 11 a.m. to 9 p.m. Monday through Saturday and noon to 8 p.m. on Sunday. Burgers 2 Beer offers a build-you-own-burger menu along with several specialty options. Burgers are served with natural-cut fries and cooked to your liking.
One you need to try is the Good, Bad, & Ugly topped with crispy honey pepper bacon, onion straws, cheddar cheese, lettuce, tomato, and barbecue sauce. Or check out the Hot & Bothered, made with Cajun Voodoo blackening spice, caramelized onions, melted habanero cheddar cheese, sliced jalapenos, Sriracha aioli, lettuce, and tomato. The Krafty is topped with macaroni and cheese, fire-roasted red peppers, honey peppered bacon, and American cheese. Additional sides for purchase include sweet potato fries, onion rings, tater tots, and macaroni and cheese.
Mr. Hero
Mr. Hero offers several locations in Ohio, including the one at 277 Northfield Road in Bedford. You can get a sandwich from 10 a.m. to 9 p.m. Monday through Friday, starting at 11 a.m. on Saturday, and between noon and 7 p.m. on Sunday. Their top-selling burger is the Romanburger, made with burger patties, grilled salami, Italian lunchmeats, Swiss American cheese, lettuce, tomato, onion, mayonnaise, and Mr. Hero's house dressing. If that doesn't sound like enough for you, you can upgrade to the Romanburger BTE with 50% more burger, deli meats, and cheese.
You can also get a cheeseburger made with burger patties and topped with Swiss American cheese, lettuce, tomato, onion, mayonnaise, and Mr. Hero's house dressing. Sides include potato wafers, tater tots, jalapeno poppers, onion petals, breaded mushrooms, and mozzarella sticks. You can also up your tots to the loaded tater tots with bacon, cheddar cheese sauce, ranch, and chives.
We hope you enjoy a burger at one of these top picks from North Coast Auto Mall. If we missed your favorite, contact us to let us know we need to make time to size up another burger joint. You can reach us online or in person at 333 Broadway Ave. in Bedford. If you'd like to learn more about the best that Bedford has to offer, from volunteer opportunities to bed and breakfasts, check out our blog.