Best Family Activities near Bedford, OH
Many things have changed in recent years, but one thing that has remained constant is the desire to get out and have fun with the family. Luckily, Bedford, Ohio, and the surrounding areas have an array of fun places to visit, things to see, and activities to do to keep your precious family time special and exciting. Whether you're new to the area or are just looking for something new to do on your next outing, check out these fun family activities near Bedford, Ohio.
Check Out the Cleveland Museum of Natural History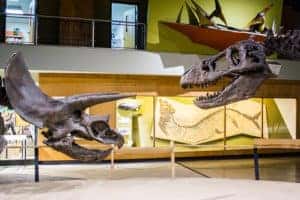 "dinosaur exhibit 02" licensed under CC BY-SA 2.0 via Flickr by Tim Evanson
The Cleveland Museum of Natural History has recently reimagined all of its exhibits and added public spaces to provide visitors with an experience to last a lifetime. The museum is a world-class scientific-research center and an excellent place for families to learn and explore. Some of their exhibits and attractions include:
Smead Discovery Center.

A hands-on area for children and explorers of all ages but is most popular with kids ages three to 10. 

Perkins Wildlife Center.

This exhibit allows you to walk through a forest with views of wildlife year-round. You get to experience what Ohio nature is like, right in Cleveland.

Shafran Planetarium.

The planetarium is a domed, titanium-coated building where you can explore planets and space thanks to advanced technology.

Ralph Mueller Observatory.

Thanks to the Warner & Swasey Co. refracting telescope, you can view the skies here.

Lucy

. The most complete early human-skeletal remains are used to help understand our human ancestors' anatomy and morphology.
There are many things to see and explore at the Cleveland Museum of Natural History. Ticket purchase is required before your visit to help with crowds. The Cleveland Museum of Natural History is open Tuesday-Sunday from 10 a.m. to 5 p.m. You can also stop by the gift shop on your way out and take home something special to remember the day.
Visit Animals Up Close at the Akron Zoo
The Akron Zoo is home to animals all over the world. It's a great place to bring the family to get some fresh air and see your favorite animals up close and personal. You can learn about animals such as the African lion, white-spotted bamboo shark, giant Pacific octopus, grizzly bear, red panda, and many more. You can see how the animals are cared for and learn about conservation efforts.
You can feed animals in the Farmland area, ride a train, and even ride a carousel to get the most out of your day. You can find the Akron Zoo at 505 Euclid Ave. in Akron, Ohio. Tickets can be purchased online for your visit to save money and time.
Submerge Yourself at the Greater Cleveland Aquarium
You can get a closer look at various underwater creatures at the Greater Cleveland Aquarium. Eight galleries include a 175-foot sea tube, 11,000-gallon stingray touch pool, and more so you can view animals from the tropical forest, Ohio rivers, and lakes. The entire family will enjoy exploring and viewing animals you usually can't find in the Cleveland area. Advance tickets are required for admission and can be found online. The Greater Cleveland Aquarium is located in the historic district along the Cuyahoga River.
Explore at the Nature Center at Shaker Lakes
The Nature Center at Shaker Lakes is a green space where your family can escape urban life. Some trails wind through 20 acres of natural habitats with a lake, fields, marshes, streams, and forested areas. There are four gardens for native insects and plants with plenty of opportunities to see local birds. The animal center allows you to learn about and view local animals such as the Eastern ratsnake, Eastern box turtles, and corn snakes. Don't forget to stop by the Duck Pond Gift Shop and take home a book, stuffed animal, or sustainable kitchen items.
Get Active at Adrenaline Monkey
Adrenaline Monkey in Cleveland, Ohio, is designed for both kids and adults to get active and have fun. There are a variety of options, such as an aerial-ropes course, rock-climbing walls, a Ninja Warrior obstacle course, and even an arcade. You can compete against each other or just play and have fun. There is also a Wee Warrior Area for kids ages four and under to have some fun. If you only have young ones, be sure to bring them on Sunday for access to the entire facility. The Monkey Bar has food and cocktails if you need a minute to relax while the kids play.
Challenge Yourself at The Great Escape Room
If you're trying to entertain teens, it can be a challenging task to accomplish. Why not head over to The Great Escape Room in Akron, Ohio, for a thrilling, fun time. There are three different escape rooms available, as well as scavenger hunt rooms fun for people of all ages. If you have a family event, you can even book the center and have it all to yourself.
About Bedford, Ohio
Bedford, Ohio, is an eastern suburb of Cleveland in Cuyahoga County, Ohio. The city is situated only 24 miles north of Akron and 12 miles southeast of Cleveland, making it a great area to live for a small-town feel while still having easy access to nearby cities. There are quaint restaurants, tree-lined streets, and a gazebo that serves as the heart of the city.
Beautiful parks, historical sites, sports, and many other family-friendly activities are within a 30-minute drive. Whether you're more of an active family and enjoy activities that challenge your body, are more into the arts and learning, or enjoy spending your time outside, there are plenty of activities to help provide you and your family with year-round fun near Bedford.
We hope that you and your family can enjoy some of these fun family activities in the upcoming year. If you think we should add something to our list, don't hesitate to send us a message at North Coast Auto Mall. We love hearing from our community and always look for new places to explore for family fun.