Best Restaurants in Bedford, OH
If you're looking for restaurants in Bedford, you certainly won't lack for choice. We all have our favorites here at North Coast Auto Mall – Bedford, so we've put together a list of some places in the area that you might like to try. Whether you want to dine in, take out, or order for delivery, there is sure to be something that everyone will love.
PIZZA IN BEDFORD & ITALIAN RESTAURANTS
There are so many places to get pizza around here, it's actually hard to make a choice sometimes. But these places are great for when you also want to order more than just pizza.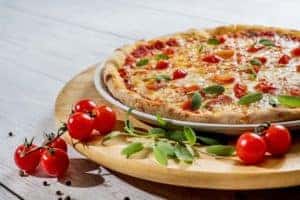 "Pizza Plate Food" licensed under Pixabay by zuzi99
TWISTED TOMATO
The Twisted Tomato Pizzeria in Cuyahoga Falls is a crowd favorite. Not only is the pizza great, but so are the calzones and pasta, especially the stuffed shells. It's actually one of the most popular Italian restaurants near Bedford. Takeout and delivery are both offered, and you can order online.
RASCAL HOUSE
You can get delicious pizza for takeout or delivery from Rascal House in Maple Heights even after everyone else is closed. But that's not the only great late-night snack to enjoy there. Try the burgers, wings, or wraps.
RUSSO'S PIZZA
Delicious pizza at great prices is just one of the delicious items on offer at Russo's Pizza in Northfield just outside of Bedford. You may want to try the mouth-watering ribs, garlic bread, and homemade potato salad. Both takeout and delivery are available, or you can make a reservation to dine in.
CHINESE & ASIAN RESTAURANTS IN BEDFORD
You don't have to settle for ordinary Chinese food in Bedford, when you have these top-notch options.
DOUBLE DRAGON
You just can't miss with the Double Dragon, with the huge portions, reasonable prices, and speedy delivery. From wonton noodle soup to Lo Mein to Sesame or General Tso's Chicken, and much more, there's sure to be something you'll want to order from here every week. The lovely Oakwood Village restaurant is now open again for dining in, but you can also order online for takeout or delivery.
NEW ASIAN DELIGHT
When you want fast, fresh, and delicious Chinese food for takeout or delivery, look no further than New Asian Delight in Maple Heights. Be sure to order enough, because you'll probably want seconds.
MEXICAN RESTAURANTS IN BEDFORD
While it's true that Mexican food is not the first type of cuisine to come to mind when people think of Ohio, Bedford has some of the best you'll find anywhere in the country.
LAS AMERICAS
Las Americas is a favorite destination because it is actually a whole Latin Market with a wide variety of products. The restaurant is at the back of the market, and you will find the most delicious and authentic Mexican food there. If you're looking for a change of pace, though, go on a Saturday for traditional Peruvian dishes.
CILANTRO TAQUERIA
For authentic tacos al pastor and other authentic Mexican favorites, you absolutely cannot go wrong with Cilantro Taqueria, a colorful eatery in Shaker Heights. Eat indoors or out, order takeout or delivery, it is everything a Mexican restaurant should be.
ICE CREAM SHOPS IN BEDFORD
Sometimes, nothing will do but a really special ice cream, not just the run-of-the-mill fast-food version. No problem, Bedford's got you covered.
MR. T'S WONDERFREEZE
When all you want is a nice, cold, delicious ice cream, you can't do better than Mr. T's Wonderfreeze. Everyone who goes there loves it, and for good reason. Regular hard ice cream or soft serve, it's all wonderful. But note that it is cash only.
HANDEL'S HOMEMADE ICE CREAM & YOGURT
This is the real deal, people, and you will know it as soon as you see the charming store. Handel's Homemade Ice Cream is a Northfield establishment that has been in business since 1945, so you know it is special. Well, with handmade flavors like Cotton Candy Confetti, Brownie Dough, and Chocolate Raspberry, that's not a surprise.
RESTAURANTS IN DOWNTOWN BEDFORD
If hunger pains happen to hit while you're downtown, consider yourself fortunate, because there is some truly exceptional food to be found in the area.
THE TOMATO COMPANY
The pizza from The Tomato Company is so good that you'll still be talking about it the next day. But don't stop there. Try the calzone, salads, subs, shrimp, chicken, and much, much more. Takeout and delivery only.
LOS GALLOS MEXICAN RESTAURANT
It doesn't get a whole lot better than reasonably priced large portions of authentic Mexican food, and that's exactly what you'll find at Los Gallos. Bonus points for the excellent service. Dine-in, pick up, or order for delivery.
RESTAURANTS WITH GREAT VALUE
Fill up on great food at super reasonable prices at these enjoyable eateries.
BEDFORD FALLS CAFE
At Bedford Falls Cafe, you'll find not only a fabulous selection of coffee and tea, but wonderful food, as well. They offer breakfasts, salads, sandwiches, wraps, bagels, croissants, and more. It's open from 7 a.m. to 4 or 5 p.m. weekdays and Saturdays, so it's a perfect place to dine in for breakfast or lunch. You could even pick up or order delivery for an early dinner.
COFFEE CUP FAMILY RESTAURANT
At the Coffee Cup Family Restaurant you'll get home-cooked food and stellar service at affordable prices. What's not to like? With everything from overstuffed omelets to breakfast burritos and corned beef hash, this place is amazing for breakfast or brunch, but it's open until 8 p.m. so you can also grab onion soup, personal pizzas, and more for dinner. Dine in, takeout, and delivery available.
DOLPHIN FAMILY RESTAURANT
Open 7:30 a.m .to 3 p.m. and until 2 p.m. on Sundays, the Dolphin Family Restaurant is a great spot to hit for breakfast, brunch, or lunch. They offer notably large portions of delicious food. Omelets and other egg dishes get raves, as do the chicken noodle soup or liver and onions. You will almost certainly need a to-go box.
VIENNA MARKET
Deli sandwiches, wings, and more for takeout or delivery at the Vienna Market in Bedford. The Reuben and gyros get raves, but you can get everything from salads to cheeseburgers, as well.
EXPLORE THE BEST OF NORTHEAST OHIO WITH NORTH COAST AUTO MALL
Our staff of local Bedford residents are fans of our local restaurant scene and are happy to discuss our favorite spots in Bedford and beyond. North Coast Auto Mall of Bedford is proud to add our part to our thriving and colorful business community.