Can You Finance a Car With No Credit?
Yes, you can finance a car with no credit. It may be more difficult than if you had good credit, but it is possible at North Coast Auto Mall of Bedford. We've helped many customers find a car they love despite their credit history thanks to our in-house financing program and being a buy here pay here dealership. To increase your chances of getting approved or to better your payment plan. There are a few things you can do to improve your credit.
Even though the average credit score in America is at a historical high of 711, about 20% of Americans have no credit history. Not having credit is not uncommon, and you may wonder if you can still finance a car with no credit. Here's a breakdown of your options.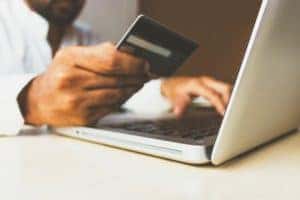 "Payment Online Card" licensed under Pixabay by rupixen
WHY DO YOU NEED CREDIT TO FINANCE A CAR?
Loaning someone money is an important decision. Even if a good friend asks for a substantial loan, you may take a minute to consider whether they will be able to pay it back. You may look back and consider if they have repaid any loans in the past and if they will have the finances to pay you back this time.
The same notion goes for auto financing. They are preparing to offer you money that they need to be confident will be repaid within the time allotted. If you have no history of repaying previous loans, a bad history of not paying or not paying on time, they may reconsider whether they can give you the funds you have requested. But reconsidering does not necessarily mean the answer will be no.
WHAT IS CONSIDERED POOR CREDIT?
A FICO credit score is what any potential auto financing department will look at before offering you a loan for your new car. These credit scores are calculated by a variety of pieces of your credit history that can be broken into five main categories: payment history, amounts owed, length of credit history, new credit, and credit mix.
The total score ranges from 300 to 850. Any number below 669 is considered fair or very poor depending on how low it is. The potential lender will look at this score along with other factors such as your current income and how long you have been at your current job. This will help them establish a pattern to analyze whether or not you will be able to pay off this loan.
HOW TO IMPROVE YOUR CREDIT
Purchasing a new car is something you no doubt have spent time working towards so finding out you do not have the funds to get one can be disappointing. That is the reason you should begin working towards improving your credit before applying for that loan. There are a number of things you can do to get credit, better your credit score, and improve your overall chances to secure a car loan.
BEGIN BUILDING CREDIT
If you do not need a vehicle immediately, take the time to build up your credit. This can be done by opening up a credit line using a rewards credit card with no annual fee or by getting a credit-builder loan or secured card which is designed to help build credit fast. You can also get added as an authorized user on someone else's credit card that has a good credit score.
CREATE A SOLID HISTORY
Just as you would look back at your friends' repayments to you, a potential lender will look back at your payment history to other lenders. Once you have begun the process of building credit, do not miss payments. Late payments over 30 days hurt your credit score and will show up on your credit history. You can ensure on-time payments by setting up automatic payments and if for any reason you do miss a payment, reach out to your credit card issuer to amend the situation.
CLEAN UP PAST DUES
Overdue bills left on your accounts will not look good on your credit report. Try to catch up on any overdue bills to clear up your current credit. This will also help you to avoid paying even more in late fees issued by the credit card company.
CONSISTENT INCOME
If a potential lender decides to look beyond your not-so-good credit but then does not see any evidence you will be able to actually repay the loan, they will no doubt deny your application. Having a steady regular income will go a long way in showing you are ready and able to pay back an auto loan.
CAN YOU FINANCE A CAR WITH BAD CREDIT?
Financing a car is possible even with bad credit. Besides improving your credit prior to applying for a loan you can also find a trusted friend or family member to co-sign on the loan with you. While this may not build your credit before getting the loan, it will aid in you being approved for a loan. Asking someone you know who has a solid history and good credit score to co-sign on a loan for you, may give a potential lender the confidence they need to give you the money you want.
DO CAR PAYMENTS BUILD CREDIT?
A car payment will most certainly build your credit if done the right way. Just as you would be paying off your credit cards on time and in full if possible, you will want to be just as consistent with your car payments. Be sure to pay the full amount due before the monthly due date. This will help you build a solid credit history and increase your credit score.
HOW TO BUY A CAR WITH NO CREDIT
Do your best to build your credit score by establishing a consistent payment history with as little debt as possible. Keep a steady job with a reliable income and find a co-signer willing to support your efforts. If you have bad credit, car dealerships offer a variety of financing options and are willing to work with you to find a loan package to suit your needs. Even with no or bad credit, it is possible to get you into the vehicle you need at a price you can afford.
GET CAR FINANCING & CREDIT HELP AT NORTH COAST AUTO MALL IN BEDFORD
Even if you don't have credit or your score isn't what you'd like it to be, you still have options for financing a car. To see some of your options for a new vehicle, regardless of your credit score, head on over to North Coast Auto Mall in Bedford.