Learn More About Car Loan Termination
Most people need a vehicle to provide transportation for work, school, or taking care of their basic needs like grocery shopping, doctor appointments, and more. What should you do if you find yourself struggling to make your car payments or if you need to terminate your car loan early? North Coast Auto Mall is here to help answer questions about paying off a car loan early and everything you need to know about car loan termination.
WHAT ARE THE ADVANTAGES TO PAYING OFF MY CAR LOAN EARLY?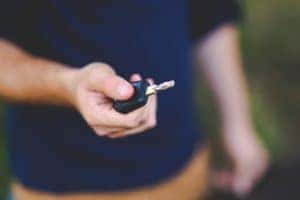 "Key Car Hand" licensed under Pixabay by kaboompics
The most significant benefit is that you'll save a lot of money on interest payments. A part of your monthly payment goes towards the interest on the loan. Early on in your loan, your payment may be mostly, if not all, interest. If you put more money in your monthly payment, most of it will go to the principal and reduce the amount on your loan. You can then pay off the car sooner.
You don't own your vehicle until your loan is paid off in full. If you pay it off early, you'll have the vehicle in your name and have more options when it comes to trade-ins and selling. If you pay off your loan early, then you will not owe more than it is worth. This can be a problem for people who have long-term loans which are high in interest and who have little money to put down.
Paying off your debt early will make it easier to get more money for things like a house. Lenders will want you to have less debt before they give you the money for another one. You might also be able to lower the amount of insurance that you pay because some lenders might require full coverage on their loans. Finally, paying it off early will free up money in your budget for other expenses or to use for other financial goals.
WHAT ARE THE DISADVANTAGES TO PAYING OFF MY CAR LOAN EARLY?
While the pros outweigh the cons, you'll still want to consider the downsides. The first will depend on your loan terms, as some loans assign prepayment penalties. If you pay it off before the term is up, there may be extra fees you'll have to pay. As ironic as it sounds, paying your car off early can cause your credit score to dip. The reason for this is it takes away from your on-time payment history going forward, and credit score calculations and lenders like to see a good mix of your credit profile, something paying it off early diminishes.
CAN I SELL THE VEHICLE TO GET OUT OF THE LOAN?
If you have overextended yourself with your car loan or your financial situation has taken a downturn, you may have issues keeping your loan payments up to date. You may be able to sell the car yourself at a high enough price to cover your loan balance. Then you can at least free yourself and allow for financing of a cheaper vehicle. Selling your car outright will have little to no effect on your credit score and is the best result of a car finance ending.
IS IT POSSIBLE TO RENEGOTIATE TERMS WITH MY LENDER?
You could also negotiate with your lender to see if more agreeable terms can be met. It's problematic for the lender to initiate repossession procedures, and often they'll be willing to work with you to avoid that. That varies from lender to lender, but it's certainly a viable option to try.
CAN I REFINANCE MY CAR LOAN?
Along these lines, you could also try to refinance either with your current lender or another lender altogether, allowing for a lower monthly payment either via a lower interest rate or a longer-term. The credit score impact of this method will depend on the particulars of the new deal. Some lenders even report that you're no longer paying according to original terms, increasing the negative effect.
SHOULD I SURRENDER MY VEHICLE?
Another option is to surrender your vehicle to the lender voluntarily. Surrendering will avoid the unpleasantness inherent with the repossession of your vehicle but still has a significant negative impact on your credit score. However, a voluntary surrendering does impact it less than an actual repossession as lenders may look more favorably upon someone who didn't fight the process and voluntarily gave up the vehicle.
GET HELP AND ANSWERS TO CAR LOAN QUESTIONS AT NORTH COAST AUTO MALL
If you're interested in learning more about car loan endings, car loan approval, or are in the market for a new-to-you vehicle, reach out to us at North Coast Auto Mall. One of our friendly team members will be happy to answer any questions, discuss your personalized finance options and credit history, or get you set up for a test drive in a top-quality used car.