Most Relaxing Activities When Taking a Break in Bedford, OH
A long day of trying Bedford's thrilling activities may leave you wanting something soothing and relaxing. From exploring nature to painting classes, there are many things you can do to rest, reset, and find your calm. Here's some additional information about the soothing and relaxing activities you can try in the Bedford area.
Astorhurst Park Bedford Reservation
Astorhurst Park Bedford Reservation is a former golf course turned nature spot, and you can head there to get some fresh air, exercise, and relaxation. Whether you want to simply explore nature, go for a hike, or hit the biking trails, you can balance a taste of nature with activities to help you calm your mind. With more than 2,200 acres and the largest tributary of the Cuyahoga River, the Bedford Reservation offers challenging trails and a diverse landscape.
Brecksville Nature Center
Brecksville Nature Center opened in 1939 as a trailside museum and still offers educational displays showing beauty, wilderness, fauna, and flora. When you visit the Brecksville Nature Center, you can take part in nature experiences, such as the opportunity to hand feed a chickadee during the winter season. You can relax by interacting with nature through naturalist tours, hiking, and strolls through the surrounding trails. Consider visiting the nearby Tallgrass Prairie to decompress in a wide-open space with plenty of fresh air. Brecksville Nature Center is one of many fun family activities you can do in the Bedford area.
Bridal Veil Falls Scenic Overlook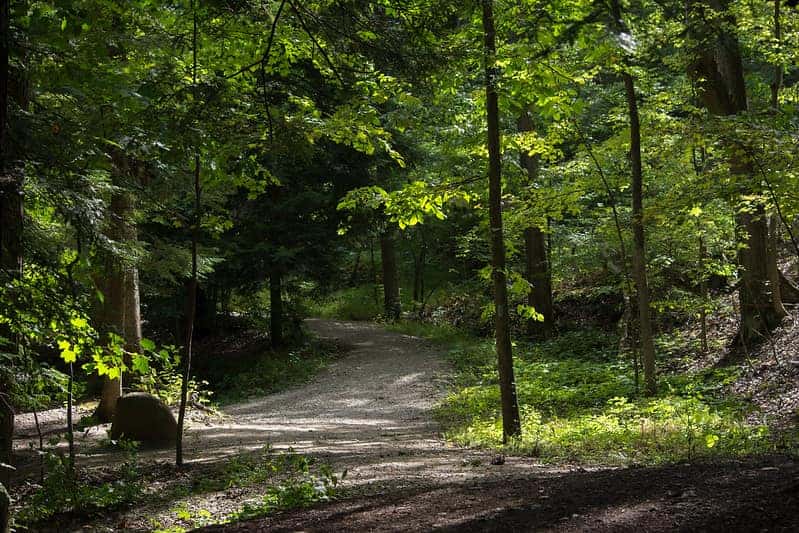 "path – Bridal Veil Falls" licensed under "CC BY-SA 2.0" by Tim Evanson
You can reach the Bridal Veil Falls Scenic Overlook by taking a short walk along Deerlick Creek. After heading down the boardwalk and steps, you'll find a beautiful view of the Bridal Veil Falls. Surrounded by hemlocks and hardwoods, the falls cascade over stones to create a gorgeous backdrop for any photo. The sound of running water and the natural landscape can offer a spot for reflection and relaxation. While visiting the Bridal Veil Falls Scenic Overlook, consider stopping by nearby spots including the Bridal Veil Falls Trailhead, Burnt Ridge Wetland, and Lost Meadows Picnic Area.
Cleveland Museum of Art
The Cleveland Museum of Art is open Tuesday through Sunday and features art installations, a cafe, and a restaurant. Take a moment to enjoy the art and stroll through the museum, finding relaxation through the open spaces and quiet atmosphere. Some of their collections include African art, American painting and sculpture, photography, Greek and Roman art, art of the Americas, Chinese art, contemporary art, decorative art and design, and textiles. The museum holds events for kids and families, adults, and college and university students.
Color Me Mine
If you're creative or you want to learn how to make art, consider dropping by Color Me Mine. It's a studio that helps guests select a ceramic piece and paint it how they want. The process of painting your own ceramic art can be very cathartic and relaxing, and you can always bring a friend to enjoy the evening with. You can also plan a party at Color Me Mine to enjoy some downtime with all your friends and bond over creating some art together. Some projects you can complete include a gingham monogram plate, a watercolor seder plate, a 90s pattern frame, and a boombox tray. There are two locations, one in Orange Village and one in Akron.
Cuyahoga Valley Scenic Railroad
If you prefer an activity during which you can kick back and enjoy the ride, the Cuyahoga Valley Scenic Railroad may be right for you. There are three main boarding stations for the railroad: the Rockside Station, Peninsula Depot, and Akron Northside Station. You can board the train for a few hours or enjoy one of their many excursions, including four-course dinners, beer tastings, murder mystery rides, and interactive family train rides. Cuyahoga Valley Scenic Railroad has one of the many interactive and enjoyable wine tasting experiences in the Bedford area. Find the perfect level of relaxation by sitting back in your seat and enjoying the scenic views.
Feels Like Home Farm
Animals lovers may enjoy the specific type of relaxation the Feels Like Home Farm has to offer. Feels Like Home has a variety of animals, including alpacas, goats, and pigs. Schedule a snuggle session for an hour with cuddling with baby goats, followed by a full tour of the farm. If you enjoy staying active, consider signing up for a session of Feels Like Om Goat Yoga. You can practice your poses outdoors on a yoga mat while petting and holding the goats that wander through the area. Yoga sessions are open to all levels of yoga skills, including serious practice and beginners.
Nautica Queen Cruise Ship
If you have your sea legs and feel most at peace out on the water, a voyage on the Nautica Queen Cruise Ship may help you relax. During the cruise, enjoy sweeping views of Lake Erie and the Cuyahoga River. Though cruises are less frequent during the autumn, spring, and winter, you can reserve a spot for a cruise nearly any day during the summer. Your ticket includes an unlimited buffet, admission to the boat, entertainment, and drinks like tea and coffee. 
The Clubhouse CLE
The Clubhouse CLE indoor golf facility is a year-round practice area where you can use brand-new TrackMan simulators and a 1,000 square foot putting green to work on your swing and take some strokes off your game. If staying active and improving your golf game can help you relax, then The Clubhouse CLE Indoor Golf facility may be the right choice for you. With its convenient location, lessons, club fittings, and golf leagues, this indoor golf facility can help you take it easy all year long.
We hope you liked our top picks for the most relaxing things you can do in the Bedford area. From sports to baby goats, there's something for anyone who wants to take it easy in Bedford. Do you have a favorite activity you didn't see on this list? Don't hesitate to tell us all about it so we can add it to this list.