Places to Volunteer in Bedford, OH
Some have been more fortunate than others, but for the most part, the past year has been a challenging one for everyone. At North Coast Auto Mall, we feel extra grateful to continue to weather the storm in 2021. Are you looking for a way to give back this year? If so, take a look at this list we've put together of the best places to volunteer in Bedford and the surrounding Cleveland metro area. Check out these opportunities to volunteer in Bedford, Ohio.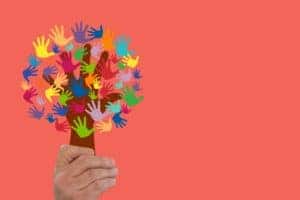 "Hands Abstract Background" licensed under Pixabay by geralt
PROVIDENCE HOUSE ON WEST 32ND STREET IN CLEVELAND
Located in the Ohio City neighborhood in Cleveland, Providence House is a crisis nursery with two facilities: Leo's House at 2050 West 32nd Street and Elisabeth's House at 2037 West 32nd Street. This nonprofit offers free emergency shelter to children up to 12 years old, protecting them from potential abuse and neglect. They also support children's families by linking with the appropriate resources and strengthening their capacities to foster responsibility and create a nurturing environment for children. There is a dedicated wing in Elisabeth's House which houses the Family Center, a place where families can visit with children, parents can receive education and trauma services.
One Google reviewer who volunteered with Providence House a few years ago said, "…was impressed with the program and organization skills necessary to provide the community support.. Great passionate group of individuals that work there." Another reviewer and Google Local Guide said, "…This organization is the best I have come across with needing help for my little one. …They show that they are there for you, and all of the programs are nice… I love it there!"
Providence House seeks volunteers that will provide childcare, support during special events, and fundraising through the PHriends young professionals' group. The organization also has a "Done in a Day Projects" modality that can be scheduled in three- to four-hour shifts. Check out their website for more details on volunteering with Providence House.
MEDWISH
MedWish's tagline is "Repurpose. Save Lives." They are a nonprofit that takes in unused medical supplies and equipment to give new purpose to those materials and provide humanitarian aid to people in need. This win-win situation means they are preventing these products from ending up in the landfills while also saving lives with equipment that beneficiaries wouldn't normally have access to.
"Without our volunteers and our unbelievably dedicated staff, MedWish would be nothing more than an idea…. Our staff work with our volunteers to package supplies and get them distributed around the world to help save lives. Without them, none of this would happen," says Founder Dr. Lee Ponsky in the short film "The Story of MedWish." Check out MedWish's website to find out about volunteering with them.
A Google Local Guide rated MedWish at five stars and said, "Great place to bring volunteer groups. If you have any supplies left after a loved one passes, give them a call." Find MedWish at 1625 East 31st Street in Cleveland.
PAWS – PUBLIC ANIMAL WELFARE SOCIETY
Founded in 1976, the Public Animal Welfare Society takes rescues from shelters, from the streets, and from abusive environments and places them in their Foster Home Program until they can find a forever home. If you're an animal lover and have some extra space in your home, you may consider providing a temporary home for rescued animals through PAWS. Other volunteer opportunities include providing transportation, fundraising, administrative support, and application screening services. There is no PAWS headquarters, but you can find out more by contacting them through their website.
GREATER CLEVELAND VOLUNTEERS: CONNECTING NONPROFITS WITH VOLUNTEERS
Greater Cleveland Volunteers is located in Cleveland's MidTown at 4415 Euclid Avenue, Suite #200. However, their website invites prospective volunteers to join a Zoom information session or enroll online so that they can take care of finding an opportunity for them. Greater Cleveland Volunteers also has an "Event Volunteering" modality that will help you get your feet wet.
This organization has been around since the early 70s, serving more than 2000 volunteers and connecting them with over 100 nonprofits. Opportunities available through Greater Cleveland Volunteers include helping the homeless, providing food to those in need, coaching adults on a variety of skills, comforting patients, and much more.
If you want to find out more, they have a frequently asked questions section on their Volunteer Opportunities page.
BONUS: RECOMMENDATIONS FROM THE CITY OF BEDFORD
The City of Bedford has a Volunteer Opportunities section on their website, where they have included a few ideas as well.
That's our list of best places to volunteer in and around Bedford, brought to you by North Coast Auto Mall. Do you have questions or want to include your nonprofit on this list? Contact us and one of our staff will get back to you as soon as possible! If you'd like to know more about our used car dealership and why we're proud to be part of the Bedford community, read more on our about us page.