The Best Hotels To Stay in When Visiting Bedford, OH
Planning a trip to Bedford? Whether you're headed our way to explore the famous Tinker's Creek Gorge, to see the landmark buildings in Bedford's Historic District, or to attend one of our many seasonal events, knowing where to stay is important. Bedford and its surrounding areas have many worthy hotels that can enhance your trip and make the experience a memorable one. Read on to learn about some of our favorite overnight stays in Bedford.
Hampton Inn and Suites Oakwood Village-Clevland
Conveniently located just off interstates 480 and 271, the Oakwood Village Hampton Inn is a short two miles from the waterfall at Tinker's Creek, the same distance from Bedford's historic district, and less than half an hour from the Burke Lakefront Airport. Visitors to this hotel can enjoy clean and basic rooms along with access to an indoor pool and fitness center. For a hassle-free stay, it's a great place to relax after a day exploring Bedford's attractions. Guests can also use the hotel's free Wi-Fi, take meetings using their business center, and enjoy a complimentary hot breakfast.
Glidden House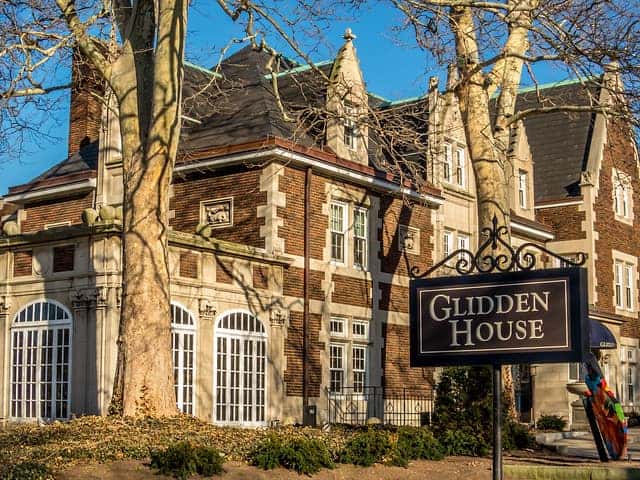 "Glidden House" licensed under "CC By 2.0" by "docbadger1"
Located Northwest of Bedford in neighboring Cleveland, a stay at the Glidden House is a great way to appreciate the area's history from the comfort of your hotel room. The boutique hotel is located in a restored 1910 mansion and it features elegant rooms and a yummy Italian breakfast. Guests can enjoy free Wi-Fi and access to the area's many dining, nature, and historic sites. Bedford is just a short drive away along scenic Lee Road. It's a great place for a romantic getaway and an authentic Ohio experience. The lobby alone is a must-see.
Aloft Beachwood
Those looking for a more modern and refined lodging experience can find it at Aloft Beachwood. Just five miles from downtown Bedford, this hotel offers free Wi-Fi, a complimentary breakfast, and access to a heated indoor pool. Its funky and fresh aesthetic is perfect for rejuvenating after a day of fun tourist attractions. The trendy bar is also a great place to connect with friends or to wind down in the evening.
AC Hotel Cleveland Beachwood
Experience an elevated and luxurious lodging experience at AC Hotel Cleveland Beachwood. We like this hotel for its ample meeting spaces, which are perfect if you're combining business with pleasure on your trip to Bedford. The hotel feels very upscale, with refined offerings and modern spaces. Guests can benefit from access to the hotel's large indoor gym and use the free Wi-Fi to catch up on work emails, share photos from the trip to Bedford, or browse our inventory of new and pre-owned vehicles before a visit to our dealership.
Quality Inn and Suites
Only 1.5 miles from Bedford, Quality Inn and Suites is an economy hotel providing basic accommodations and services to Bedford visitors. We're big fans of their indoor pool, which feels reminiscent of a luxury spa. Complimentary breakfast, free Wi-Fi, and free parking are just some of the other perks of a stay at Quality Inn. With affordable rates, it's a great place for the whole family to enjoy in between visits to Cleveland and Bedford's various attractions.
SpringHill Suites Cleveland Solon
The Solon SpringHill Suites is a great place for those looking for a hotel close to Bedford with an indoor pool and complimentary breakfast offerings. The hotel is clean, spacious, and dog friendly, making it easy to bring a furry friend with you on your trip. Its proximity to Cleveland provides ample opportunity to expand your trip and explore nearby features like Chagrin Falls, MGM Northfield Park, and Cuyahoga Valley National Park.
Our favorite thing about this hotel is the roominess of their suites. With separate areas for working, relaxing, and sleeping, you can enjoy a trip with your family without extended periods of time in each other's personal space.
TownPlace Suites by Marriott Cleveland Solon
Another pet-friendly accommodation, TownPlace Suites by Marriott Cleveland Solon is a good choice if you plan to be in the area for an extended time. It's a hotel that feels like home, with guest-accessible grills on the back patio, plenty of breakfast options, and fully equipped kitchens. You'll likely also appreciate the plush beds in the spacious suites. Evening cocktails are available in the in-hotel bar, and it has multiple event spaces for those hosting meetings or events.
Homewood Suites by Hilton Cleveland Solon
Homewood Suites by Hilton Cleveland Solon is another close option for Bedford travelers. It's conveniently located in Solon, Ohio's business district. On Wednesdays, it hosts a complimentary evening social, giving you a chance to meet some of your fellow travelers. If you prefer to dine in, you can always use the hotel's in-suite cooking options. Homewood Suites offers free breakfast and Wi-Fi, and the free shuttle covers a 5-mile radius.
Drury Inn and Suites Cleveland Beachwood
Just over five miles away from Bedford is Drury Inn and Suites in Orange Village. Whether you're traveling for work or fun, Drury Inn promises to provide a comfortable stay. It's close to great dining and shopping establishments, so you can see many fun attractions while staying close to your room. It also has free Wi-Fi, a free hot breakfast, and complimentary beverages and snacks in the evenings.
Its accessible location just off I-271 makes it easy to get to both Bedford and Cleveland. After spending some time in Bedford, you may choose to explore nearby attractions like the Cleveland Orchestra and the Rock & Roll Hall of Fame.
These are just some of the great places you can stay near Bedford, Ohio. Wherever your travels take you, we hope you have an excellent time visiting our town. Did you stay somewhere not on our list that you think we should include? If so, stop by and let us know about your experience. We'd love to hear about other great stays in the area and to show you our impressive lineup of vehicles to get you ready for your next big adventure.