Car Loan Approval in Bedford, OH
If you're looking into purchasing a quality used vehicle in the near future, you may want to consider a few factors beyond the year, make, and model. Most people don't have the cash to purchase a quality vehicle outright, so they may choose to finance the automobile, which means taking out a loan. You'll want to be aware of several steps to the car loan–approval process before you step on that car dealership lot. The more you know before you go, the better prepared you'll be when you sit down to figure out the financing options.
How Do I Get a Car Loan?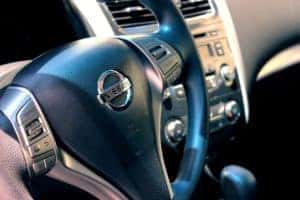 "Nissan Car Automobile" licensed under Pixabay by DayronV
Obtaining a loan for a vehicle isn't complicated, but you may experience some complications along the way that can make it a bit more challenging. The steps for getting a car loan include:
Checking Your Credit Report
Your income and credit history will determine the loan amount available to you, as well as the terms such as the interest rate and length of the loan. If you find any errors when checking your credit report, file a dispute to correct them. If you have a poor credit score or history, know that it doesn't have to mean that a car loan is impossible for you to obtain.
Applying for Loans Through a Variety of Lenders
Compare terms and conditions of auto loans across several lenders. You may want to go through your bank or credit union, as they may offer a lower interest rate if you agree to automatic loan payments. The dealership may also work with multiple lenders to get you an auto loan at reasonable rates. If you apply through several lenders within a two-week period, it only counts as one hard inquiry.
Getting Pre-approved for an Automobile Loan
Pre-qualifying for a loan will provide you with an estimate for rate, loan amount, and monthly payment to allow you to narrow down your options for a vehicle that fits the loan. Pre-approval also gives you some negotiating power and protects you from marked-up rates.
How Do I Qualify for an Auto Loan if I Have Poor Credit?
Many dealerships, including North Coast Auto Mall in Bedford, offer financing options for people with no credit or bad credit. We know that you're more than just a credit score and consider your stability when applying for financing. North Coast Auto Mall is a "Buy Here, Pay Here" dealership that offers in-house financing for the Bedford area. Our goal is to provide those unable to secure bank financing with an affordable price for a reliable vehicle. Our process skips the hassle of applying for an auto loan at the bank and finances it directly through the dealership.
What Is Buy Here, Pay Here?
Buy Here, Pay Here lets you secure vehicle financing without all of the harsh restrictions placed on loans by lending institutions, such as banks and credit unions. The main benefits of shopping at Buy Here, Pay Here dealerships include:
Credit history is not considered a part of the application process.
Approval is faster at a Buy Here, Pay Here dealership.
Your Buy Here, Pay Here loan will help you rebuild your credit.
All you need is a driver's license and to be at least 18 years of age to apply at a Buy Here, Pay Here dealership, like North Coast Auto Mall. Buy Here, Pay Here is an excellent option for drivers with no credit or bad credit. A credit score below 640 is considered subprime, while anything below 500 is really bad credit and will often mean denial of credit from private lenders. Buy Here, Pay Here is available to get you into the used car of your dreams at North Coast Auto Mall.
Bad Credit Doesn't Mean Bad Loans or Bad Vehicles
Just because you have less-than-stellar credit doesn't mean that you deserve a low-quality loan or vehicle. Operating strongly on this basis, North Coast Auto Mall offers high-quality, well-maintained vehicles ready for purchase using our Buy Here, Pay Here program for those with bad credit. All of our vehicles are inspected, repaired, and maintained by a team of trained auto technicians.
Our expert technicians use high-quality parts and state-of-the-art tools to ensure each of the vehicles on our lot is reliable and ready to roll. The supreme state of our vehicles provides you with higher confidence levels in your purchase than if you were buying a used car from a private seller.
Huge Selection of Used Vehicles
North Coast Auto Mall has a large variety of vehicles available to purchase via the Buy Here, Pay Here program. We offer everything from fuel-efficient sedans to family-friendly SUVs and work-ready trucks. Whatever you're looking for, you're sure to find it on the lot at North Coast Auto Mall, and we'll do everything we can to get you into your dream vehicle and on the road as quickly as possible. Also, our dealership offers only the best used car inventory to our customers to provide a reliable vehicle that fits your needs.
Trust Our Financial Experts at North Coast Auto Mall
Our finance experts are friendly and knowledgeable and will work with you to help you select a vehicle you can afford. They'll work to find you the best financing option for your unique situation by listening to your needs and guiding you through the financing process. Whether you select a Buy Here, Pay Here or traditional financing option, our financial experts are here to help. From pre-approval through signing the final paperwork, you'll be guided through each step and have answers to questions you may have along the way.
Value Your Trade
You can get an estimated value for your trade online before ever stepping foot on our dealership lot. Our online tool allows you to use the same data we do when valuing your vehicle for trade. It just takes two steps to get an estimate of the top-dollar amount you can receive for your vehicle when you trade it for a new-to-you vehicle at North Coast Auto Mall.
When you're ready to step into a quality used vehicle, stop by North Coast Auto Mall in Bedford regardless of your credit history. A member of our team would be happy to answer any questions, give you a tour of our inventory, get you set up for a test drive, and find you the best financing option for your needs. You can stop by the lot, give us a call at 440-703-8560, or fill out our secure online message form, and someone will get back to you as soon as possible.