Golf Courses Around Bedford
Whether you are visiting the Bedford, Ohio, area or you live in the Northeastern part of the state, if you love the game of golf, you have plenty of courses and clubs to choose from when you want to head out for a round. There are two courses right in Bedford, with many more within a short drive. Take a look at the details for some of our favorite golf courses.
Shawnee Hills Golf Course
Shawnee Hills Golf Course is home to Bedford's two courses and offers 27 holes to play. You can choose from the smaller nine-hole Par 3 course or the regulation 18-hole course. Local architect Ben Zink designed the original 18-hole course in 1957, while the experts at Cleveland Metroparks designed the expansion course.
Most golfers agree that Shawnee Hills is an excellent choice for an afternoon of golf in the Cleveland area. It's a great course no matter how experienced you are. If you are just getting started in the sport and want some help, you can take a lesson, or even sign up for a lesson if you are an experienced golfer and want some help with your game.
The driving range at Shawnee Hills has 29 different stations, and is a perfect place to practice, while the Par 3 course is ideal for beginners. When you hit the 18-hole course, you'll appreciate the gentle terrain of the front nine, but get ready for the challenging back nine.
Shawnee Hills offers Solorider golf carts for players who need mobility assistance along with the regular carts.
Chagrin Valley Country Club
Head to Chagrin Falls to the Chagrin Valley Country Club and the 18-hole championship course. It is one of 26 courses in the United Stated designed by Stanley Thompson and showcases the natural beauty of the terrain that includes rolling hills, rivers, and a natural rock formation.
The Chagrin Valley Golf Academy has professionals to help you with your game, whether you are an experienced golfer or just getting started. The academy offers one-on-one lessons, on-course instruction, and clinics to help you take your game to the next level. The facility's practice area features natural and synthetic turf areas, a short practice hole, and putting and chipping greens. You can also work on your game during the winter months at the indoor lesson spaces.
The club offers events for members throughout the season such as the Chagrin Valley Cup, Two-Man Best Ball, and the Green Coast Classic. This two-day event takes place every July and is the largest member-member event of the year.
If you want to bring friends to the club, there are a few events for guests as well. The Chagrin Valley Country Club Field Days is a one-day event every May, July, and August. Members can host up to seven guests for a day at the club for golf, lunch, and prizes.
Highland Park Golf Course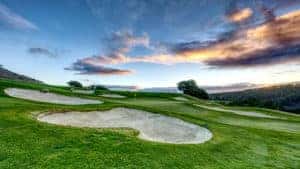 "Tehama Golf Course Green #3" licensed under CC BY 2.0 via Flickr by GuyC
Highland Park Golf Course in Highland Hills, Ohio, is the only public course on the east side of Cleveland. The course opened in 1929 and consists of the Blue Course and the Red Course, with both courses offering plenty of challenging holes. The Blue Course has 6,740 yards from the longest tees and a par of 71, the Red Course measures 6,322 yards from the longest tees, has a slope rating of 116, and has four sets of tees designed for different skill levels. Both courses at Highland Park Golf Course feature bent grass greens and bluegrass fairways.
This city-owned and -operated course has seen some improvements over the past several years. It has a chipping area and putting green for practicing along with golf cart rentals. There are also snacks and drinks available in the clubhouse.
Gleneagles Golf Club
Take the short drive from Bedford to Twinsburg and check out the Gleneagles Golf Club. Its challenging 18-hole course measures 6,500 yards from the longest bluegrass tee and features water hazards on 11 of the holes that will challenge your accuracy. This course also has over 20 bunkers to add to the challenge. The Gleneagles Golf Club pro shop has everything you need for your game, from clothing to equipment, and the professional staff is here to help you get set up with all your equipment and provide lessons if needed.
The Gleneagles Golf Club offers league play for men and women. The Twinsburger Senior Men's Golf League is a popular league, and there's also the 18 hole ladies league. Younger players can get even in on the action with the Junior Golf League. The goal of this league is to provide golfers between the ages of 10 and 17 with an opportunity to play in tournaments, improve their game, and win prizes. Junior participants are expected to have a basic knowledge of golf and be able to play nine holes every week. The league includes weekly warm-ups, clinics, and competitions.
Grantwood Golf Course
The Grantwood Golf Course in Solon, Ohio, is an 18-hole course for golfers of all skill levels. It features a spacious green belt area with the course, a clubhouse, a pro shop, a banquet facility, and meeting rooms. According to Golf Magazine, Grantwood Golf Course is one of the top five courses in the Cleveland area where you can play for under $50.
The course is home to the Grantwood Golf Academy, with clinics and classes for adults, juniors, and players of all levels. You can sign up for a five-week clinic whether you want to learn the basics of golf or improve your game. The Ladies Night Golf Clinic is a great way to spend time with friends while working on your golf skills, and the Senior Clinic is a new program for seniors with or without experience.
Golf is a game everyone can enjoy no matter how young or old you are, but you need to have reliable transportation to get you to and from the course. Stop by North Coast Auto Mall to find a pre-owned car or truck with space for your clubs and gear and get to the course for your next tee time.