Yearly Car Meet-Ups in Bedford, OH
If you're a car enthusiast or you're simply looking for something interesting and fun to do throughout the year, be sure to check out what the Bedford, Ohio, area's annual car meet-ups bring to the streets every year. Below, you'll find several of our favorite car-focused happenings in the Bedford area that we think you should check out the next time they roll around.
Boost Monday Night Meets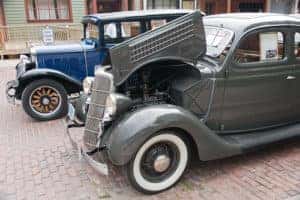 "McGregor Iowa Car Show" licensed under CC BY 2.0 via Flickr by cwwycoff1
The Boost Ohio Car Club meets every Monday in Parma during their season from May to September. If you're looking for something besides the community-based classic car shows, check out the Boost Monday Night Meets. This is a massive meet-up of hundreds of cars and drivers who love them. There is a sharp focus on performance vehicles at this event, rather than collectible cars. The community these events bring together shares an unfiltered and unbridled passion for their rides.
Cleveland Auto Show
The Cleveland Auto Show is always worth checking out for those who are interested in what the modern car world is up to. There is plenty to see at this show, including million-dollar rides, classic cars, and vehicles that you can test drive without leaving the premises. From exotic and pre-production models to alternative fuel and standard production vehicles, there's plenty for you to explore at the Cleveland Auto Show. Tickets to the Cleveland Auto Show are $16 apiece in-person or $13 online. The 2022 show will be held from Feb. 25 to March 6.
Fall Fun Car Show
The Fall Fun Car Show over in Twinsburg is one of the newest annual car meet-ups in the area. September 2021 marks the second entry into the new annual event. The show is open to vehicles of all ages, so you never know what you'll find here. Try your hand at the 50/50 raffle and the door prizes during your visit. Tickets to this event are $10 per person.
Father's Day Car Show
If you're looking for the perfect Father's Day gift for your car-loving father or husband, take them to the aptly named Father's Day Car Show at the Stan Hywet Hall & Gardens in Akron. This event is one of the best opportunities to see some of the most well-preserved classic and antique cars in Ohio.
This show is put on by the Ohio Region Classic Car Club of America, which brings around 400 models to the event every year. New to the event is the pre-1985 motorcycle category. Between the beautiful premises and the expertly curated cars, the Father's Day Car Show makes for a scenic, interesting outing for the whole family.
Home Days Car Show
The Home Days Car Show in Independence is one of the best destinations to see some classic American cars. In addition to plenty of cars to explore, you'll also find some great food and entertainment, including cornhole tournaments and carnival rides. Admission is free to this August event.
Lucky 13 Bedford Car and Motorcycle Show
One of the best car meet-ups in northeast Ohio has to be the Lucky 13 Bedford Car and Motorcycle Show. This community event calls interesting and antique models to cruise from the local high school to Historic Bedford's Broadway Avenue. At that final destination, people can celebrate with food and music as they explore the great cars that take part in the event. The Lucky 13 show generally takes place in the first half of June, so be sure to check back around that time to see when you should make your way to Downtown Bedford.
Mayfield Village Family Cruise Night
Head north a few miles to get to Mayfield and enjoy the Mayfield Village Family Cruise Night in September. This event is great for the whole family. Let the kids explore the Family Fun Zone with jumping balloons and face painting while you check out the cars. Mayfield Cruise Night also has live music, plenty of food, and entertainment for you to make for a great night with the kids. Admission to this event is free.
Riverfront Cruise In
See what the community at the Riverfront Cruise In meet-ups in Cuyahoga Falls are all about. Every Monday night from June to September, from 4 to 8 p.m., drivers meet up to show off their wheels and cruise around the city. Head to Downtown Cuyahoga Falls to take a look at all sorts of vehicles in over 300 parking spaces. This event also holds 50/50 raffles and offers door prizes. Stop by one of the local restaurants in the town's downtown area to make it a full, fun night.
Be sure to take a look at this meet-up's schedule to see what theme the next event will have. One Monday may be dedicated to Corvettes or Mopar models while another features street rods or Mustangs and Cougars.
Rock N Roll Capital Street Machines
Over in nearby Solon, you'll find the Rock N Roll Capital Street Machines club, which holds cruises every Tuesday from May to October. You never know what you'll find when you attend this club's many events: new muscle cars, classic coupes, pre-1950s rat rods, and more. You don't have to have your own interesting ride to participate in these events — you just have to be interested. The community-style car shows are popular events for the area every year.
Explore Bedford With North Coast Auto
These are just a few of the great annual car meet-ups our team at North Coast Auto Mall – Bedford likes to plan their year around. Whether you're living in the Bedford, Ohio, area, or you're visiting to take part in these gearhead gatherings, you can rest assured you'll find two things at the events above: great people and awesome cars.
Check out our lists of other interesting destinations worth checking out in and around Bedford, Ohio. From helping you find the best things to do around Bedford to giving you the resources you need to find your next new-to-you car, North Coast Auto Mall – Bedford is on your team. Get in contact with us today to start looking for your next favorite vehicle.